Poker Chip Keychains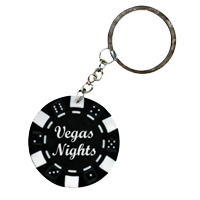 Item #: PKRKCH
Size: 1 1/2″ Poker Chip Keychains
Material: Resin
Imprint Area: 3/4″ dia.
View Full Size Image to see colors
Call or e-mail for available clip art. We can also use art work or school logos you provide.
S5418 – Blue
S5417 – Red
S5581 – Green
S5420 – White
S5419 – Black
     Imprint Colors:
Blue
Green
Purple
Gray
Maroon
Burgundy
Brown
Orange
Red
Gold
Metallic Gold
Metallic Silver
Pink
Turquoise
Yellow
$1.00
Minimum Order: 150 pieces
Set-up: $50 per color/per location.
Second Color: 25¢ per piece. Second Location: 30¢ per piece.
Consecutive Engraved Numbering: 22¢ Numbering Set-up: $20; Please allow 4-5 extra days of production time for numbering.